Enter the Jonathan Green Gallery
Restless artistic temperament brings painter back to Lowcountry roots
By Adam Parker
The Post and Courier
Sunday, July 19, 2009

"Eyelets," Spoleto Festival USA's official 2004 poster, is one of Jonathan Green's many paintings celebrating African-American culture.
Green
After 10 years living in Chicago and more than two decades in Naples, Fla., painter Jonathan Green is coming home to the Lowcountry.
The artist, widely known for his use of intense colors and emotional explorations of Gullah culture, will take up residence on Daniel Island by the end of July, he said.
The move is partly a consequence of a restless artistic temperament, he said.
"I'm returning to Charleston because I think I've done enough in Naples as an artist and resident," he said. "I have to move around a little bit ... to gain experience and knowledge."
Green, whose work has been featured at the Gibbes Museum and other institutions, is an art activist, promoting the idea that art education should be an intrinsic component of any school curriculum. "People just don't understand the importance of the arts," Green said.
Black culture in particular is poorly represented in the world of visual arts, yet exposure to painting, a universal language everyone can understand, is a critical way to learn about identity, faith, history and contributions to society, he said.
"We focus strongly on everybody else's culture," he said, adding that it's time to do a better job presenting black culture.
Green, 53, said his passion is informed by his childhood, growing up in rural South Carolina and New York City and reared by his mother and grandmother. In those years, he did not see his own culture repre-sented in major U.S. institutions despite the significant contributions of black people, he said. Black culture still is woefully underrepresented, he said.
He is involved in the development of an arts-infused curriculum for the new Sanders-Clyde Elementary School scheduled to open in January. He has designed a mural for one of the school's outer walls.
Born and raised in Gardens Corner, a rural community not far from Beaufort, Green attended Huspah Baptist Church, a reincarnation of the Tabernacle Church founded by Robert Smalls. From an early age, he was made aware of history and celebrated his cultural inheritance, he said.
In the Windy City, where he attended the School of the Art Institute of Chicago, he became active in politics, then disenchanted by the city's political turmoil, he said. Still, it left him with a clear notion that art must take politics into account.
He said he is driven today by two main ideas: To make sure art is ensconced in our community — its public facilities, schools and churches — and to help women understand that they are the "force and guide" ensuring that their children conceive of themselves as free to pursue all opportunities.
"No mother would not want her child to have human rights," Green said. Any mother who fails to stand up for her children — white, black, straight, gay — has abdicated her responsibilities, he said.
Angela Mack, executive director of the Gibbes Museum, said Charleston can only benefit from having someone of Green's professional character and reputation.
"I think it's not only natural, but a wonderful chain of events," Mack said.
The Gibbes long has provided Green with a forum for his art and ideas. The latest show dedicated to his work was the 2004 exhibition "Rhythms of Life: The Art of Jonathan Green."
He has worked extensively in the Charleston area, creating a Spoleto Festival poster, joining panel discussions, producing his famous painting, "Seeking," which hangs in the library at Mepkin Abbey, and promoting the arts in the community. Mack said his relocation to Daniel Island will raise Green's profile regionally and result in new opportunities.
"This could begin a new chapter in his life," Mack said. "And aren't we all lucky that we get to observe this firsthand?"
Reach Adam Parker at 937-5902 or aparker@postandcourier.com.
About Black and White and Green
BY JACK MCCRAY
Of The Post and Courier Staff
Standing behind a lectern in the majestic Rotunda Gallery, Jonathan Green was as cool and calm as the stillness in the air in the venerable museum space.
He was casually, but elegantly, dressed and had taken his time walking to the front of a small group of museum staffers, festival officials and journalists.
Green had come to Charleston from his home in Naples, Fla., to officially unveil a new work. He spoke in measured, even tones, with just a hint of a Gullah lilt, as he thanked everyone and told an interesting story about how the work came to be. He was unassuming, almost hesitant sometimes, in his refined delivery. His presence, however, gave off an air of supreme confidence and of being in touch with something larger than the energy in the immediate surroundings.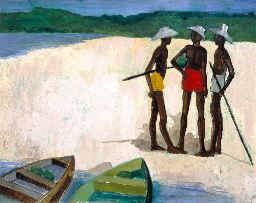 Jonathan Green's "Boat Men," 1985, oil on masonite
He was at once engaging and mysterious.
The occasion was the April 23 introduction to the public of the painting for this year's Spoleto Festival USA poster, "Eyelets."
It was also a precursor to an exhibition of Green's works, Rhythms of Life: The Art of Jonathan Green, which will hang at the Gibbes Museum of Art until Aug. 29. The exhibition of more than 30 paintings contains works created from 1985 through 2004 and organized by the Gibbes with guest curator Roberta Kefalos Sokolitz. An exhibition by another South Carolina African American artist, batik master Dr. Leo Twiggs, will be up until Aug. 8.
"I have to say, the impetus to do this came from the Gibbes," said Nigel Redden, Spoleto Festival USA general manager. "We've had a number of conversations with the new director, and we talked about Jonathan Green. ... We thought it would be great for him to do a poster, and we were delighted with the exhibition at the Gibbes, with Twiggs as well. Both are going to be featured as part of the festival."
The festival had discussed consideration of a planned ballet based on Green's work. "We weren't prepared to get involved in that project, but I had a chance to see his work and was very impressed with it," Redden said.
"We liked the idea of pairing them," said Betsy Fleming, the 35-year-old director of the 99-year-old Gibbes who took over in September 2002. "Also, by working with the festival, we thought we could broaden our audience."
Angela Mack, head curator at the Gibbes, said: "Their mediums are different. Leo is textural. He works in the batik medium. He created these wonderful collages. They both are very strong in using settings in their life and family as inspiration for their art. I find both gentlemen to be exactly that -- gentlemen."
FARMER ARTIST
Green wants everyone to come, especially locals.
He said in a telephone interview in early April: "What is exceptional about this exhibit -- and it should be for Charlestonians, all people, black, white, Indian -- is that it focuses on work, love, belonging and spirituality. For anyone to walk into a museum and see paintings of imagery they can identify with is a positive."
Green, 48, works with oils and describes himself as a realist. "Realism is what I do. This style came out of my learning about other styles of painting. I just sort of merged cubism, asbtractism, fauvism and folk."
Green attended Beaufort High School. After graduating, he served in the Air Force from 1973 to 1975, where he worked as a certified illustrator. He also studied textile design and construction at East Grand Forks Technical Institute in Minnesota prior to entering the School of the Art Institute of Chicago in 1978. Green graduated from the institute with a BFA in 1982, and then traveled in America, Canada, Mexico, West Indies, England, France and Switzerland.
"His art was first noticed in elementary school," said Green's sister, Annette Green-Howell. She moved to Charleston in 1995 and works at Gallery Chuma on John Street, the only outlet for her brother's work here. "He was always drawing images on the walls in the house." He didn't get in trouble. "My grandmother perceived that he was artistic, so she didn't mind. He drew a mural. It was so beautiful and so colorful. He could draw before he could write letters."
Women, particularly his grandmother who raised him, are very important in Green's life. "In the 50s, as I was growing up, 80 per cent of the children were raised by grandmothers," he said. It was not by default but by custom. "They've had the experience," he said.
Life in Gardens Corner for the Greens was based on African cultural retentions that informed the customs and rituals of that 100-year-old community situated at the intersection of U.S. highways 17 and 21, about 56 miles south of Charleston.
"The area was once owned by a Mr. Green, then sold to a Mr. Garden from England, a military officer who purchased the land around 1870 or so," Green said. "He used it to grow gladiolas, gardenias and roses. There still is a flower farm there. ... My grandmother owned land."
He went on to say, "I give great accolades to the farming community. It sustains the overall community. It's simple to give breath and life to people who are often invisible." His farm background informs his views on race. "Because I come from a farming community, race doesn't play a big role for me. When you're from the farm -- farmers are unique -- work takes on a meaning different from race, sex and income. The land is just so important; people have to work together to survive. The land does not have any segregation qualities."
Green-Howell, 46, fondly recalled growing up in Gardens Corner. "Everything was natural. For instance, we killed a hog on the coldest day. Everybody had a responsibility in the hog killing. We took care of chickens, learned how to hunt and many other survival skills.
"When we joined the church, we went through the old process. We went to our grandmother and said, 'We were ready for God.' ... You were kind of set aside. You couldn't go outside and play or watch TV. You would go into the woods at 6 in the morning to pray and stay for however long it took you." At some point after the spiritual conversion, there would be baptism. "We marched down from the church, and you would be baptized in the creek. During the processional, people would pull over to watch. You would have on white. It was only done during low tide, so you could look for sink holes."
CHILD OF THE VEIL
Everything happened in this community in its proper time and at its proper place. Green has never lost that rhythm.
Sokolitz wrote in the catalogue accompanying the exhibit, "Green was marked as a 'child of the veil,' bearing a caul (placental membrane) over his head at birth. Widely considered a good omen, the veil also singled him out as special in Gullah culture -- someone destined to be a prophet, visionary or storyteller. It brought him early into the world of his elders, a close observer and participant in the unique African-rooted traditions of life in the Lowcountry from the late 1950s to the early 1970s."
Redden said he believes Green's Lowcountry-based work not only entertains people but offers illumination and hope. "For many of us, the world is somewhat muted, and to have an artist remind us the world can be lush, that it's pretty out there with this sense of real mystery, that's beautiful."
Green operates on the arc of energy between the sacred and the secular.
As deep as spirituality ran in Gardens Corner, so did revelry. He painted baptism scenes, but he also painted partying, such as of the juke joint, "Silver Slipper," one of his more famous paintings, done in 1990. Embracing the spiritual and the worldly with the same verve and intensity is of the African American experience.
"The joints were underground railroad stations; people went there to meet and socialize," Green said.
Both Saturday night and Sunday morning influenced him. "It was the only way I knew how to live."
IF YOU GO
WHAT: Myths and Metaphors: The Art of Leo Twiggs and Rhythms of Life: The Art of Jonathan Green .
WHERE: Gibbes Museum of Art, 135 Meeting St.
WHEN: Regular hours-10 a.m. to 5 p.m. Tuesday through Saturday, and 1 to 5 p.m. on Sunday, closed Monday. Daily tours of Green and Twiggs exhibits, 2:30 p.m. through June 13.
Daily guided tour of both Rhythms of Life: The Art of Jonathan Green and Myths and Metaphors: The Art of Leo Twiggs.
ADMISSION: $7 for adults; $6 for senior citizens, students and military; $3 for children; members free.