presents
a lecture by famous artist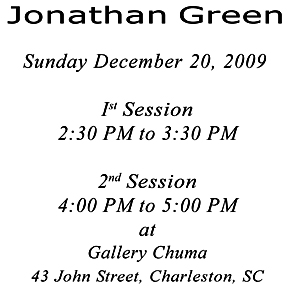 Jonathan Green will talk about his creative process, using his sketches, drawings, and preliminary ink wash studies on exhibition at Gallery Chuma through January 31, 2010. Jonathan Green will also discuss ways to appreciate and start your own art collection at any budget levels.
Art patrons, collectors, students, and admirers are encouraged to attend these lectures by one of our country's most outstanding and awarded artists.
Seating space is limited for each lecture session, art patrons are encouraged to call the gallery at 843-722-7568 to reserve a seat. This event is free and open to the public.
Thanks to everyone that attended the opening reception last Sunday. More than 350 people came to see the exhibition and chat with Jonathan Green. Over 60% of the artworks in the exhibition were sold, but we still have some great works by Jonathan Green to collect.

Jonathan Green will sign and dedicate his Calendars, Prints and Books for you at the Lecture and Reception. These signed works are great for Holiday Gift Giving.

About Jonathan Green
Jonathan Green, painter and printmaker, was born and raised in the small Gullah community of Gardens Corner located near the South Carolina Sea Islands. The customs and mores internalized by Green stressed the importance of the work ethic and a commitment to community values with a respect for the dignity and integrity of others. He is one of the first known artists of Gullah heritage to receive formal training at a professional art school, The Art Institute of Chicago, graduating with a Bachelor of Fine Arts Degree in 1982. He has carefully crafted his own unique and inclusive style and perspective, combining influences from his years of formal studies with his Gullah heritage.
Jonathan Green is credited with founding the Gullah art movement, a popular art genre that is now embraced by other artists, collectors, and critics throughout the world. His paintings can be found in major museum collections in California, Florida, New York, North Carolina, Oregon, Pennsylvania, South Carolina, Vermont, Japan, Germany and Sierra Leone. In 1996, Green received an honorary doctorate from the University of South Carolina, the same year a book, Gullah Images: The Art of Jonathan Green, reproducing a large number of his artwork was published.
Jonathan Green draws upon his own intimate personal experiences, steeped in the traditions of family, community and life in the Lowcountry of South Carolina, to portray the way of life he remembers while growing up. He depicts not only the way the Gullah people fished, farmed, and harvested, but also how they worshipped, danced and celebrated. He has been credited with almost single-handedly bringing the Gullah culture to the forefront and visually preserving its unique culture. Each of his paintings is a testament to the motivating power of place and the enduring qualities of culture.